Medicare in Arizona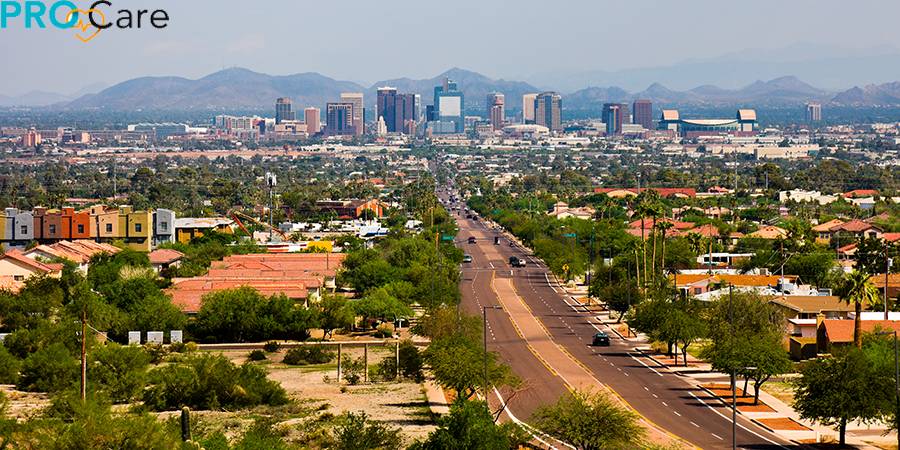 With over 5 million people living in Arizona, there are a lot of people who utilize Medicare plans to help them financially with medical expenses. There are numerous plans available for people who qualify. Many potential policyholders like you have a lot of questions about what is offered through Medicare, what is covered, who is eligible, and how to get a plan.
General Medicare Information In Arizona
When people first qualify for Medicare insurance, there is an enrollment period that is called the initial enrollment period. If you do not get Medicare this during this time, you will need to wait until the next open enrollment period to get your Medicare policy. If you are over the age of 65, or turning 65 over the next three months, and are not already getting benefits through Social Security, you need to sign up to get Medicare Part A and Medicare Part B insurance. If you are already getting benefits through Social Security, you may be enrolled automatically.
Choosing your coverage is an important task, and many people get coverage through Medicare in different ways. There is a lot of information about Medicare out there to help you get coverage, including a welcome to Medicare packet and more. If you utilize the tools on this site, you can get information about the plans that are offered and avoid getting the massive amounts of junk mail from agents, brokers, and these private insurance companies.
There are two main ways that people get Medicare coverage. The first is called Original Medicare, and the second is called Medicare Advantage. Each of these types of plans has pros and cons to it, so keep reading to find out what these are.
Medicare Insurance Plan Types in Arizona
In Arizona, many different types of Medicare plans are available. Original Medicare, which includes Medicare Part A and Medicare Part B, are utilized by most people. You can use any doctor or hospital that takes Medicare, anywhere in the US with this plan. If you want drug coverage, you have to get Medicare Part D. Also; supplemental coverage plans are available, called Medigap policy. For people who do not get Medicare Part D or Medigap policies when first eligible, they may need to pay more for these plans at a later point.
Medicare Part A, also called hospital insurance, covers inpatient care at skilled nursing facilities, as well as inpatient care at hospitals. In addition, hospice care and home care can also be covered in specific situations. Medicare Part A plans may or may not have a premium, depending on your situation. For people who have paid Medicare taxes for a total of 40 quarters or more, the benefits you get will not be likely to have a premium.
Medicare Part B, the second half of Original Medicare, provides coverage for outpatient services like doctors' visits. Ambulance services are also covered, as well as second opinions from specialists before surgery. In addition, durable medical equipment can be covered. Medicare focuses on covering what is medically necessary, so there are some situations where equipment might not be covered.
Both Medicare Part A and Medicare Part B is Original Medicare. The second option that is available to you is getting a Medicare Advantage plan. Medicare Advantage, also called Medicare Part C, is a bundled plan that includes not only Medicare Part A and Part B, but also additional benefits and coverages. Most often, this plan will include a Medicare Part D equivalent. It can also include things like hearing coverage, vision coverage, dental coverage, and more. Keep in mind that you will need to use doctors who are in the plan's network, a consideration to be aware of when selecting a plan.
The last type of Medicare coverage that is available is called Medicare Part D. This coverage includes prescription drug coverage. There are requirements for Part D plans, put forth by the Medicare program. Plans are sold by private insurance companies and must include certain types of medications. Some people do choose to get discount drug programs rather than Medicare Part D, but it is hard to predict which medications you will need over the course of the year, so Part D can be a fantastic option.
Who Is Eligible For Medicare In Arizona?
People who are over the age of 65 can qualify for Medicare, though people under the age of 65 can be eligible as well. This occurs when people under the age of 65 get Social Security Disability Insurance or have qualifying conditions. People with Lou Gehrig's disease, as well as people with End-Stage Renal Disease, can also qualify. Whether you are looking for Original Medicare or Medicare Advantage, Pro Care PT is here for the assist.